Welcome To Hell
ABOUT ME:
I am what i am and what i'm not i'll never be
there's really nothing i could say about my personality that you won't find out sooner or later if you get to know me. and i'm not gonna describe how i look because it would seem like i'm filing a police report, and a picture is worth a thousand words. i am freakly obsessed with Cradle of Filth. my main goal in life is to meet them.
i've been told i'm very creative; i love listening musics,draw, and play computer. i can play guitar and base a bit, but not enough to say i play the instruments. i give up on almost everything.
i'm only 16, hell no i won't stop there. i tend to blurt out random shit when things get awkward or silent. i prefer still life to motion, black and white are my favorite color. i don't talk much. get over it. i did.
i don't have a religion, nor i do not believe that there is a god.
moving on.
i hate talking on the phone.i'm a smoker.i hate dogs. i eat chocolate like a crackhead smokes crack. i overreact, i'm disorganized, and i'm slow at times. but i guess that's normal.
i love to laugh, and to make other people laugh. i'm generally a happy person, but i don't show it. i can be understanding, or i can just not give a shit. i'm very forgiving, but most people make the mistake of thinking they can easily take advantage of that.
i love meeting new people and seeing new places. i'm a procrastinator but at least i do get shit done. eventually. most of my emotions are expressed through my art. i know, that sounds corny but it's true.
i come off as distant and apathetic in person.
i don't look down on ANYONE.
i don't disrespect anyone, no matter how badly they have hurt or disrespected me.
there is a difference in being sure of something, and knowing the truth
sometimes it's best not to know the truth.
I Am The Antichrist:
Flames licking at my body
I start to rise out of the depths
From darkness i shall come forth
And walk among you on your earth
Will you recongise who i am?
Will you bow down on your knees?
A gift i bring to you, its called pure hate
An emotion you have never known
This feeling do you like it?
Some people call me Satan
Some just say that i'm the Devil
Numerous other names float amongst your lips,
Jesus once walked this earth
For trying to save you, he was nailed
Nailed to the cross
Now no one will save you from me
I prefer to be called the Antichrist
Join me and i will treat you right
I will never abandon you
In my arms i'll hold you tight
And take you to my house
I'll give you a power you couldn't imagine
A power to make you free
Yes i am all that is evil, i have no love inside
But if your loyal to me, i wont let you down
March with me, we will bring hell into this world
Together we will rise up, we will be the storm
Everything destroyed, fire all around
Flames, explosions, death and sickness
To all who will not follow
I am the Antichrist
falling into ash:
do you fill like burning all inside and
you don't know why.
Can't you fill your self falling into ash.
All you can relie on is the past.
But in reality you are falling into ash.
All the burning leaves i a flash
and because part of the past.
Can you fill your self falling into ash.
And all you can is really rely is on the past.
But in reality you are falling into ash.
And every life you know is turning into ash.
and they dont rely on the past.
Raven:
At the wind's first gust
Tower without it's raven
Crumbles into dust
Bricks and mortar fall
Lost is the black haired raven
No tower stands tall
It's base blown apart
By silence when once was song
Raven did depart
Black feather remains
Memory to the raven
In the heart it stains
The Prayer Of Elizabeth Bathory
:
Help me, O Clouds.
O Clouds, stay by me.
Let no harm come to me.
Let me remain healthy and invincible.
Send, O send, you powerful Clouds, ninety cats.
I command you, O King of the Cats, I pray you.
May you gather them together,
even if you are in the mountains,
or on the waters,
or on the roofs,
or on the other side of the ocean.
May these ninety cats appear to tear and destroy
the hearts
of kings and princes,
And in the same way
the hearts
of teachers and judges,
so they shall harm me not.
The Blood Countess (Elizabeth Bathory) :
A dark haired beauty of tender years
Is touched by evil and kindles fears
A malignant force runs through her veins
A soulless shell as blood she rains
Fair servant girls she does enslave
Tortured and bleed in ways depraved
In her huge castle of broken mirrors,
Where screams are concealed in it's terror,
Her accursed desire stirs everyday.
As drinking blood lets her outstay.
Old skin renewed in the bloody baths.
The innocent saturated by her wrath.
Teeth rip and tear as flesh she devours
650 died to engorge youthful powers
Buckets of blood ran across her floor
Like waves lapping against evil's shore
Wickedness built its roots in the air
Forsaken, by her deeds, was the snare,
To be forever the darkness bride,
No matter how hard she had tried
Hate blocked her way to forgiveness
Surrounded by bloody madness
When girls she picked from nobility
Authorities approached with hostility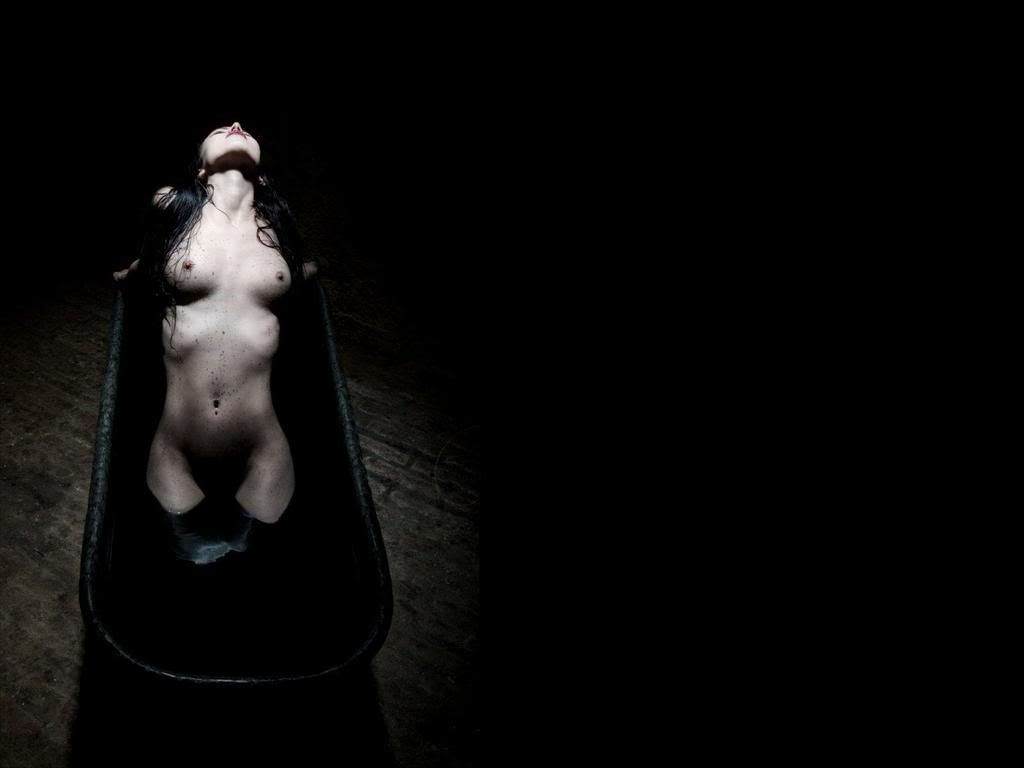 The Rise Of The True PENTAGRAM:
One dark afternoon
Like a shadow I flew
Through the rain that fell sick with lament
To this house of incest
For when we undressed
Blasphemies against Venus were rent
Though a sister removed
Her white body approved
The parade of my heavenly quests
Yet, all tongues are not true
Some are forked or askew
Like an uncivil serpent's at best
For ousted from Eden
I fausted all reason
Hook in mouth like Saint Peter Pan
To haunt fairy groves
And hot virgin coves
Where in the promiscuous swam
I elected lovers and rejected others
Mathistrisses that don't give a damn
But for those that still do
My deep interest grew
The rise of the true pentagram!
The Night Stalker:
Light turns to darkness, darkness fades to gray
A desolate soul awakens, now comes out to play
He embraces the shadows that keep him from sight
Playing hide and seek with the creatures of the night
Hunger burns deep down within his soul
A yearning so strong, one out of control
A lust for blood drives his cold blackened heart
Euphoric feelings rush in as he tears his victims apart
No method to the madness no patterns to unveil
Just a cold blooded killer sent straight outta hell
He'll wait in the shadows for an unsuspecting soul
From that point on he'll loose all control
Hell has awaken its child, this being it's seed
Slashing and ripping, with an intensity driven by greed
When the last dropp of blood flows freely from your veins
He'll slip back into his coat of shadows, no remorse, no pains
From a distance he'll admire his grisly scene of destruction
He'll play back ever move, perfecting his next introduction
Silently he'll slip away racing against the inevitable light
Back to his resting place hidden safely out of sight
He'll close his cold dead eyes, as he lays down his head
Resting once again, here among the undead
Thinking only of the next unsuspecting walker
To fall victim of one of Hell's
Night Stalker's
One More Step To Dark:
One more step to dark,
The hour is now late;
Shadows deepen spark,
Fills up faceless fate.
Greeting to the wind,
That follows to the sea;
Fresh not disciplined,
That comes so vigilantly.
One more day ahead,
In autumn shady ways;
Colors have all bled,
And wither now to grays.
Summer's long time gone,
With dreams in sky blue;
New thoughts now in drawn,
Seemingly deeply through.
One more dreaming hides,
Full of longings still;
When winter thought abides,
With emptiness to fill.
Cold is wintry breeze,
That in footsteps follows;
Shakes the leafless trees,
And branches full of crows.
Grim Reaper
:
Death, bringer of
Dreadful, grim injustice
With his cloak built of
And composed of
Woven shadows
And broken dreams
The light playing sickly
Off his blood-stained
Scythe that glows with
The souls of the
Damned and dead
Broken and desperate
Sinners and innocents alike
His sullen, empty eyes
Read no mercy, emotion,
Or sympathy
The only thing that
Drives his soulless form
Is the whip
Snapping in the back of his mind
That is his revenge
Hovering sombrely
Hovering sinisterly
Hovering dutifully
Hovering patiently
Calling the names
Of those whose
Time has ended
So others can begin.